Locksmith Service in Columbus, OH
Are you looking for a Columbus, Ohio, locksmith? We will fulfill all standards. Columbus Community Locksmiths is a licensed company with more than two decades of experience in the industry, and we conduct business throughout Ohio and the nearby areas.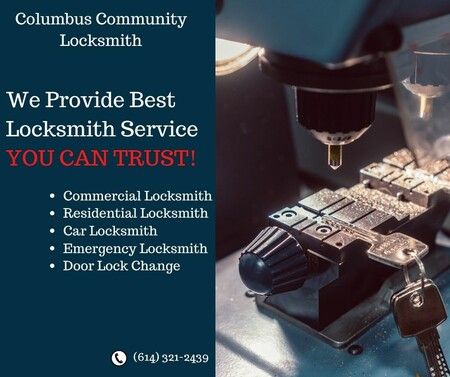 With our extensive selection of locksmith services, we can assist you with any issue, including:
Operating a business is challenging and requires ongoing vigilance regarding safety precautions. You will always need security and commercial locksmith services, whether you run a small business with a handful of employees or a large office with thousands. We sympathize with business owners and do everything we can to ensure their company's security is one less thing for them to worry about.
Columbus Community Locksmith will be there for you when you need an economical, dependable locksmith. We can handle everyday tasks like rekeying and lockouts and complex functions like advanced lock improvements.
Your family's and property's safety is a significant priority for you, but it is also a high priority for us. We provide our team with the mobile units necessary to provide Columbus's best residential locksmith services. When you want lock modifications, rekeys, or lockout services, our locksmiths will deliver them on-site using cutting-edge tools and procedures.
You may count on us to deploy an expert locksmith to your household at any hour of the day or night, whether you need to get access to your home or feel the need to increase its security.
Mid-summer is here. You stop someplace on your way home from work, and as you go outside, you find your keys are missing. You begin panicking, so you reach for the doorknob, only to discover that it is unresponsive and the door is locked.
When the weather is poor or late at night, being locked out of your vehicle significantly annoys you. Columbus Community Locksmith is luckily available when you need a Columbus locksmith. We will be available when you need us to unlock your car, create new locks or ignition keys, or program new keys.
How frequently have you encountered an obvious situation threatening to put your timetable out of a bad mood? Lost keys, broken locks, unexpected lockouts, and ignition issues can bring unanticipated trouble. When these events occur at unusual hours or in an unfamiliar area, you cannot afford to wait for assistance. Your frustration and anxiety would increase with each passing moment. During such instances, you cannot simply hire any locksmith for service; you need a locksmith who can handle your emergency effectively.
Here is where you must trust the most trustworthy emergency locksmith in the Columbus, OH area: Columbus Community Locksmith Emergency Locksmith. The company has established itself as the community's go-to locksmith by gaining a reputation for rapid response and prompt service.
Sometimes locks can no longer be repaired because they are so severely broken or old. And if we're talking about your home's lock, then your safety is of the utmost importance, and you should change it immediately. Replace your old lock with a new one installed by professionals. If you need a new lock installed, you want the job done correctly.
Our team of experts is ready to supply you with intelligent solutions. We utilize only Columbus-certified locks to provide you with the finest level of security. Lack of action will result in incorrect lock installation and additional charges.
Eventually, you will need to hire a professional team and purchase a new lock if the one put in was broken during the installation process. Choose quality and excellent pricing to change a door lock in Columbus, OH.
Why are Columbus Community Locksmiths preferable?
At Columbus Community Locksmiths, we act with integrity and pride. In addition to taking care of our work, we strive to serve consumers as we would like to be treated. This is set by performing the task correctly on the first attempt. We are committed to assisting our community and fostering excellent communication between our staff and customers. Whether you are locked out, need replacement keys, or require new locks, we can help. You can contact us at (614) 321-2439 and get free estimate
Good Customer Service
The level of customer service you receive during the inquiry phase is essential, and it represents the service quality you will get if you engage with that service provider. It would be best if you were confident that whichever organization you choose is eager to support its consumers. Typically, the need for a locksmith comes in an emergency, such as a damaged lock, a complete lockout, a broken safe, a broken key, etc.
Rapid Response from Affordable Columbus Community Locksmith
There is nothing more aggravating than calling many locksmiths only to hear it will take them half a day to come. Lock and critical emergencies are typically urgent, so we take pleasure in our prompt dispatch and speedy response. When it matters most, you can rely on our mobile Columbus locksmith units to be there.
Our top priority is to give Columbus residents and businesses locksmith services that are prompt and inexpensive. Regardless of the lock and key services you require, Columbus Community Locksmith can supply them. Contact us around the clock for emergency services, or submit an online estimate request for non-emergency services.
Service Commitment We Offer
We at Columbus Community Locksmith have been providing locksmith services for a long time. Everybody forgets their keys someplace at some point, but it shouldn't make your day miserable. We are glad to offer a service to stop it from happening. Several additional tasks that may otherwise take up your day are also made simple by us. As a mobile locksmith service, we can bring new transponder or high-security keys to you, sparing you the need to make an extra trip. Additionally, we provide house locksmith services and will give you the finest solutions based on your requirements. Instead of buying a new lock, you may save some money by having a basic lock repair done.
Your locks are not meant to prevent you from moving forward; don't let them do that. When you call us, we'll make every effort to get your locks and keys operating correctly so that you can leave as soon as possible. If you have questions regarding our locksmith services, don't hesitate to call us.