Residential locksmith in Columbus, OH
Although you consider your home your secure haven, how safe is it? Daily reports of home burglaries and, occasionally, incidents in which the occupants suffered physical harm are published in newspapers. Homes are easy targets since their security is less strict than commercial buildings. Your old lock may have protected your property for many years, but that doesn't guarantee it will do so in the future. Locals must take the lead and make the necessary security-related investments to safeguard their homes, possessions, and, most importantly, their families. Residential locksmith in Columbus, OH, - Columbus Community Locksmith believes that every resident of the Columbus, Ohio, area has the right to feel entirely safe and secure in their home and offers specialized residential locksmith services for that purpose.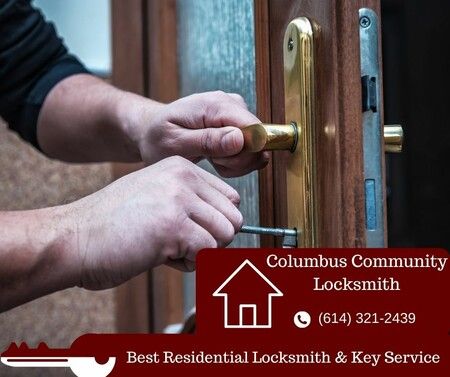 Since its start, we have been able to secure hundreds of single-family houses, apartments, and other residential areas by offering solutions that meet today's security standards and homeowners' financial constraints. Our residential locksmith services have earned a particular place in the community because they are dependable, reasonable, and trustworthy.
Residential locksmith in Columbus, OH
Concerning protecting the safety of their homes and loved ones, Columbus Community Locksmith is the top residential locksmith in Columbus, OH, residents recommend. For the last 20 years, we have been helping Columbus residents with all their crises, including lost keys, locked outside, high-security locks, home lock changes, home rekey services, and more. We may be reached at any time of day by calling (614) 321-2439, and we will arrive at your place in under 30 minutes. We provide residential locksmith services in Columbus honest, courteous, and trustworthy manner.
Since the start of our professional residential locksmith Columbus services 20 years ago, we have been a modest, family-run locksmith business committed to offering only the purest expert solutions for any residential locksmith Columbus emergency. We have always been dedicated to delivering our clients the top locksmith services for any emergency residential locksmith Columbus needs. We use the most up-to-date tools and technology for all locksmith assignments to ensure that our customers receive only the best services possible. Additionally, it allows us to do jobs more efficiently and neatly. Our modern tools enable us to unlock your door without causing any harm to the lock or the door. They also will allow us to respond more quickly to any residential locksmith emergency in Columbus.
We Can Improve Your Home Security in Columbus
We are the ones that can complete any task correctly the first time, whether you want to add strike reinforcement to your doors or install high-security locks to make your home safer. Please feel free to stop by to see how we can help, as your property's security is one of your top priorities. We exclusively provide top-tier lock brands at competitive pricing, making our services the best in Columbus.
Competent and Knowledgeable Residential Locksmiths
Anyone may offer a prepackaged solution, but only a professional can come up with one that suits your property's particular needs. Working with our experts will result in higher-quality service than a locksmith has ever experienced. Due to their extensive industry experience and subsequent training from us, our locksmiths always act professionally while working.
Before providing the service, every detail is carefully examined, your needs are fully understood, and a price is mutually agreed upon. Our house locksmiths are skilled at simple things like creating replacement keys and more challenging tasks like creating security strategies.
We're Skilled, Speedy, and Effective.
Because we know that the world is moving at the speed of light, we provide residential locksmith services that provide prompt and practical solutions to problems. Our skillful technicians are pleased to assist you, answer any of your inquiries, and inform you of your alternatives for achieving the level of security you require for your house.
Give Columbus Community Locksmith a call, and let us show you what we can do for you. We assist you with every key and lock in your life. At Columbus Community Locksmith, we will always complete the task since neither small nor large work is too difficult.
Residential locksmith in Columbus, OH Services we offer
Imagine arriving home one evening, inserting your key into the lock, turning it, and hearing a loud crack. The key's upper half is left to hold as you remain standing there. The other half makes fun of you from its position inside the lock. Now, what do you do? You should push on it to see if you can open your door. When you make it firmly, you immediately hear another loud snap. Your entry is indeed open, but it is also damaged. To solve the issue, contact Columbus Community Locksmith right away.
As Columbus' top residential locksmith, Columbus Community Locksmith provides a variety of goods and services from reputable manufacturers.
fixing locks
installation of a new lock
Rekeying locks
extraction of a broken key
setup of a smart lock
electronic door locks
elevated security locks
padlocks and deadlocks
lock on patio doors
hinges on sliding doors
lock replacement
repair of door jambs
strike plate protection
the mortise lock
deadbolt and front door handle sets
Installation of a Wi-Fi Smart Lock
Residential locksmith in Columbus, OH, at reasonable prices
We are the best option for all of your residential and emergency locks and key needs in Columbus and the nearby locations when you combine our professional locksmith services with competitive prices. Call us at (614) 321-2439 if you need a trusted locksmith right away.
Get in touch with the Top Residential locksmith in Columbus, OH

.
You can trust Columbus Community Locksmith to handle your residential locksmith needs because we will always have the appropriate solution. Our business provides the most extensive selection of home locksmith services in Columbus. Our innovative solutions are tailored to each problem's distinct needs, constraints, and constraints of our clients.
Keep in mind that Columbus Community Locksmith can handle any issue you may have with a house lock. Have you been locked out? Keys misplaced? in the keyhole and broken them? No matter; do not be anxious. One phone call will solve the problem. At Columbus Community Locksmith, our team of qualified home locksmiths is always available to assist. We'll send a professional residential locksmith to Columbus if you contact us.