Car Locksmith in Columbus, OH
The essential benefit of a vehicle is its functionality. You would understand the significance of these wheeled marvels if you had a car in Columbus and drove it frequently. They are an essential part of people's lives that spans distances and facilitates transportation. But to keep them in top condition, they also necessitate regular trips to the mechanic and other maintenance facilities. Can you picture finding yourself unable to get into your automobile because the lock is jammed? Maybe you should have paid more attention to a maintenance check, or unavoidable circumstances prevented you from doing so. Regardless of the cause, you can call a Car Locksmith in Columbus, OH, who can address your issues immediately.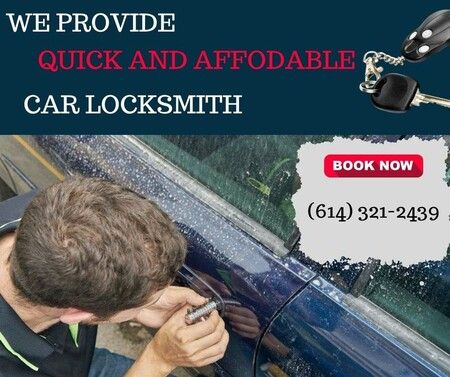 So, where can you go to locate a trustworthy automotive locksmith to handle your car's locks and keys? Set away your concerns; a Columbus Community Locksmith can assist you. Our team is qualified, has the necessary expertise, and is proficient at addressing car locksmithing issues.
Meet the Experts At Car Locksmith in Columbus, OH!
People know to call Columbus Community Locksmith in case of any automobile locksmith emergency. We have been offering 24-hour emergency locksmith services for all types of lockouts, transponder key programming, lost keys, broken ignition, and the same critical situations you might be experiencing in Columbus. We are accessible around-taround the clockhe-clock for any vehicle locksmith emergencies. Call us at (614) 321-2439, and we'll send one of our mobile emergency units to your area in less than 30 minutes so you can get back on the road. Our locksmith solutions are dependable and long-lasting because we only employ authentic supplies and machinery to address all vehicle locksmith situations in Columbus. The citizens of Columbus may always rely on us as one of the most reliable automotive locksmith services for their safety.
We began our adventure as a modest locksmith business in the center of Columbus, offering assistance to the locals and companies there. Immediately after, we started producing our locks and safes. Today, 20 years after beginning to respond to any emergency in Columbus with sincere automobile locksmith Columbus services, Columbus Community Locksmith is the most requested automotive locksmith service. We are committed to providing our clients with only the most excellent products and services, including locks! Every job and product produced by Columbus Community Locksmith will always be flawless. We can handle any automobile locksmith emergency with simply a phone call.
Trusted & Reliable Car Locksmith in Columbus, OH!
When residents of Columbus experience an automotive locksmith emergency, we are the name they most frequently turn to. Call Columbus Community Locksmith at (614) 321-2439 if you're in the middle of a lost car key emergency at midnight, and we'll guarantee to be there in under 30 minutes. To ensure that we can cut and create a duplicate key for your lost vehicle key right away without spending time hauling your car to a far-off service station, we always carry all the emergency equipment and tools that may be needed to assist you in your automotive locksmith Orlando emergency. We strongly think that time is money. The best bet for a speedy vehicle locksmith in Columbus service is Columbus Community Locksmith.
For all of our employment opportunities, we only hire the best and most professional locksmiths since we recognize safety's importance. Each of our locksmiths has more than four years of experience and is a licensed professional, and they are experts in their field and can handle any locksmith emergency. Before being hired, they all underwent thorough background checks.
You can have your car lockouts, lost keys, broken ignition, transponder key programming, and duplicate critical crises resolved in just one phone call within 30 minutes!
Our Car Locksmith in Columbus, OH Services
We specialize in providing fast, courteous, and affordable car service because we understand that you want to minimize further hassles. If you've been in an accident and your car locks are jammed, if you've locked the kids in the car and cannot free them, or if you've misplaced your keys, you should contact our auto locksmith service in Columbus, Ohio. Because locksmith issues frequently arise at inconvenient times, our professional team is on call 24 hours a day, seven days a week.
Car Lockout
Car door lock repair and replacement
Reprogramming transponder keys
Lost car key replacement
Broken or jammed ignition key removal
Ignition replacement
Trunk unlocking
Car door lock replacement
Car security system installation
Our most common Car Locksmith in Columbus, OH
You'll inevitably get locked out of your car. Because this happens often, there are many ways to fix it. However, an auto locksmith may be able to pick up the trunk or door lock, depending on where the keys were left. It would help if you had a spare or replacement car key after the crisis is settled. Our mobile auto lockout services can help you in 30 minutes. Our car locksmiths cover Columbus's entire area.
A locksmith can replace a car's ignition circuit or another item. A locksmith can make the change wherever you are, even though it may seem difficult. Our car locksmiths can remove a broken key from a car door or ignition and immediately replace an ignition switch component.
If your car was constructed after the mid-1980s, cutting a new key is more challenging than it used to be. Transponder keys with chips for ignition systems were introduced then, and your car's chip is in your key's bulky plastic portion. If you misplace your car keys or need a spare, one of our skilled auto locksmiths can help. Call Columbus Community Locksmith, and we'll send a professional to your area to create a new car key.
Keys and locks wear out over time, and a piece of road debris in the lock can cause this. In this instance, one of our vehicle door locksmiths will quickly diagnose and fix the lock.
At Columbus Community Locksmith, we make safety a priority. Our primary objective is to return you to your vehicle as fast and safely as possible. Our logo can easily recognize each of our service cars and experts, so you can feel secure when using our services.
Get in touch with a Car Locksmith in Columbus, OH, Today!
Every day, we strive to maintain our exceptional reputation for customer service by being the best auto locksmith in Columbus. Our experts and staff are professionals in automotive locksmith services, so that we can assist you regardless of the type and model of your vehicle. Contact us 24/7 for all of your Columbus auto locksmith needs.