Commercial locksmith in Columbus, OH
What's your business's security strategy? Which doors require daily locking and unlocking? Where should you install emergency exit crash bars? Are alternative core locks needed, or will conventional ones suffice? There are numerous decisions to be taken about the physical security approach of your firm. As the top-rated Commercial Locksmith in Columbus, OH, service provider, and the most well-respected business locksmith in Columbus, we are ready to prove how to protect your assets and your employees.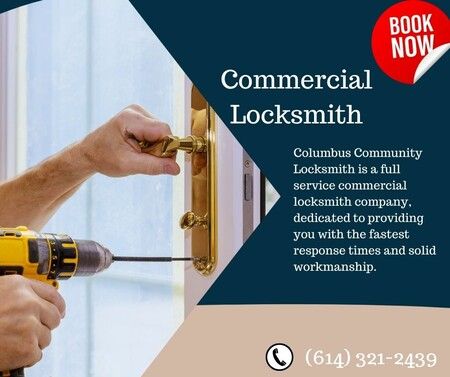 Best Commercial Locksmith in Columbus, OH
Columbus Community Locksmith is the most trusted and dependable Columbus Community locksmith service you can rely on to secure your commercial property. With our incomparable locksmith solutions, we can assist you in securing your retail fortress against any intrusion or robbery. We are accessible 24/7. We can help you with any commercial locksmith Columbus emergency, including locked-out offices, lost keys, lock changes, lock re-keying, master key programming, keyless entry doors, glass door locks, and more! Remember to call us at (614) 321-2439 if you need a locksmith to assist with the security of your office the next time you need one.
We started offering locksmith services 20 years ago as a small company that caters to the needs of neighboring businesses and residents in an emergency. People have faith in our legit services and locks. We manufacture some of the finest steel-based locking solutions for commercial premises. Call us at (614) 321-2439 at any time of day, and we will arrive at your place in less than 30 minutes. Our emergency mobile vans are equipped with the most up-to-date equipment and technologies to resolve any problematic or simple commercial locksmith Columbus emergency. This allows us to provide our clients with rapid solutions to their commercial troubles.
Leading Commercial Locksmith in Columbus, OH
We'll handle everything if you choose Columbus Community Locksmith for commercial locksmith services in Columbus. All defective locks will be replaced or repaired by our experts, who will also create duplicate keys to replace the broken originals. Because of our vast experience and the cutting-edge equipment our locksmiths utilize, we can perform these tasks efficiently. No work is too small for Columbus Community Locksmith, so if you get locked out of your office, storage space, or file cabinet, you can depend on us to get you back in.
Because we know how a broken lock can interfere with your regular business operations, we provide the quickest response times of any commercial locksmith in Columbus. Regardless of the time of day, you can get a quote, and one of our professional locksmiths will arrive quickly.
Securing Commercial locksmith in Columbus, OH, One Lock at a Time
According to local reviews, our business provides the most excellent and most influential commercial locksmith services in Columbus. The significant levels of client satisfaction we have attained over the years make us incredibly proud, and we are pleased to provide all of the company owners in this fantastic city with our expert services.
Services for Commercial locksmith in Columbus, OH
Our service provider assists local businesses in the Columbus area to provide security for their facilities. In and around Columbus, we offer a wide variety of commercial locksmith services. For instance, please take a look at the following list of commercial locksmith services that we offer:
Master Key Rekeying
The Main Key System
Installation of the Push Bar
Push Bar Repair
Installation of a Keypad
Keypad Repair
New Installation
Lever Locks
Locks with Combination Dials
Installation of the Panic Bar
Panic Bar Repair
We advise using an interchangeable core system if you run a business and want to restrict access to specific persons to particular portions of the building while allowing them access to other areas. Because it is part of an interchangeable system, the core can be changed. After that, the lock's key can be changed quite rapidly. This procedure is highly significant when it comes to employing new workers or providing additional credentials to existing employees. In addition, it is practical for individuals to quit their jobs without giving the keys back to the employer. Your company is at risk because of the current circumstances. On the other hand, there is no cause for alarm. We can assist you in finding a solution to the problem as promptly as possible.
Your company's physical security overall impacts how marketable it is. Because we at Columbus Community Locksmith know this, so we provide sophisticated locking systems. As one of the most reputable commercial locksmiths in Columbus, we have assisted several local businesses in strengthening security measures by replacing outdated technology, installing high-tech security locks, and changing out old locks.
Finally, feel free to phone us or use the form on the following page to contact us if you have any queries about our services.
Need A

Commercial locksmith in Columbus, OH

? Call (614) 321-2439.
If you are looking for a commercial locksmith in Columbus who can give expert locksmith services for your recently constructed multi-story commercial complex, you have come to the right place.
You may place your trust in Columbus Community Locksmith to ensure the security of your commercial property. Whether you are a small startup or a large multinational corporation, we have solutions for every sort of commercial property. When you wish to limit access to your office with the same locks, we can assist you with office re-key solutions where we will merely change the key to the safety of your offices so you do not have to invest in new locks and can still regulate access.
Experts from Columbus Community Locksmith can assist you in locating the most outstanding professional solutions to your locksmith emergencies. At Columbus Community Locksmith, we recognize the significance of your safety and would never be the cause of any danger to it. Every locksmith at Columbus Community Locksmiths is a licensed expert. They are customer-oriented and capable of handling any form of commercial locksmith emergency in Columbus on their own. They can unlock virtually any lock without causing any damage to your door.
Contact our company today to learn more about our services and what makes
Columbus Community Locksmiths special.