Emergency Locksmith in Columbus, OH
How frequently are you in the middle of an apparent emergency that could destabilize your schedule? Unexpected difficulties can arise from lost keys, broken locks, unexpected lockouts, or ignition-related issues. You cannot afford any delays in getting help when such circumstances occur at strange hours in Columbus or an unknown area, and you would feel more frustrated and stressed as time went on. A locksmith who can handle your issue successfully is what you need in these situations; you can't just call any Emergency Locksmith in Columbus, OH, for assistance.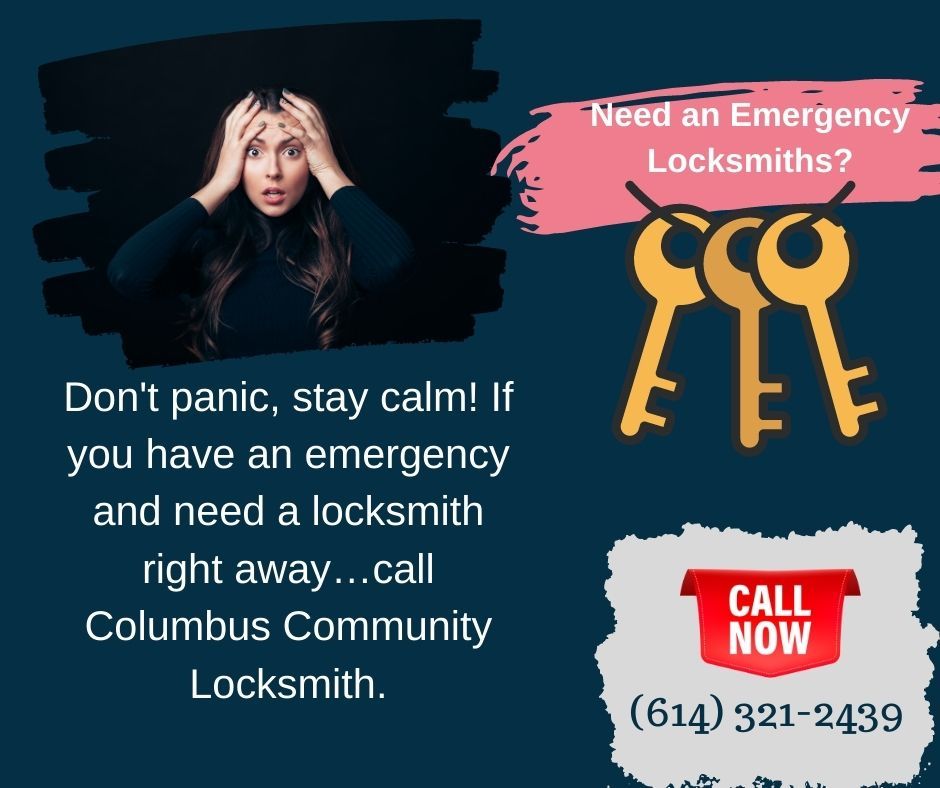 The most trustworthy emergency locksmith, such as Columbus Community Locksmith, is whom you should call. The company has established itself as the neighborhood's go-to locksmith due to the hundreds of people who depend on it and its reputation for providing swift solutions.
24/7! Emergency Locksmith in Columbus, OH Available
When you call us, we'll respond quickly and provide courteous, professional service. Being locked out of your house is frustrating, and without causing any harm, we'll bring you into your house. Finding out you've been a home invasion victim is worse than being locked out. A door has been forced open, a lock has been picked, or a weak point has been identified for entrance. Whatever the situation, our 24-hour locksmiths will be there quickly to improve matters. We can change the keys in your locks or put in new ones. We can alter the code on your alarm system or check if your garage door locks—a standard entryway for house burglars—are functioning correctly. We'll also evaluate your predicament and offer you helpful prevention guidance. That striking plate, for instance, might not have been sturdy enough, or the glass door might require a lock with key entry on both sides.
Rapid Response Team
Clients frequently have to wait hours before getting the assistance they require. They may get desperate as a result of the never-ending wait. In the event of lockouts, they may resort to breaking a window pane or the lock, resulting in irreparable injury and, in some instances, putting themselves in danger. We know that such circumstances call for quick action, and our emergency locksmith team strives to deliver just that. No matter where you are in the Columbus, OH, area, we will be there in 15 to 30 minutes.
Our locksmiths can work under pressure and use their in-depth technical knowledge to offer a quick fix.
Affordable Emergency Locksmith in Columbus, OH
You can still receive assistance from a professional even if you are short on funds. At Columbus Community Locksmith, we strive to make emergency locksmithing services reasonable and accessible to everyone. Unlike other companies, our final invoice is free of hidden fees, additional charges, and call-out expenses. Whether you contact us in the middle of the night or during the day, you will get the exact flat cost.
Did you misplace your keys? Are you experiencing a crisis? No time should be wasted. Dial (614) 321-2439 to receive prompt, on-site emergency locksmith help.
Columbus Community Emergency Locksmith in Columbus, OH Services
Emergency Car locksmith services
Are you locked out of your vehicle? Do you require emergency assistance? Contact Columbus Community Locksmith for automotive locksmith services for ignition switch repair, key replacement, car fobs, and all other lock and fundamental problems.
Our experts are competent and proficient in working on both domestic and foreign automobile models. Call us whenever you need assistance with the following:
This is a typical issue that every automobile owner encounters. Today, everyone is so loaded with chores and responsibilities that, when in a rush, they frequently face a lockout. Contact us whenever you find yourself in this scenario; we are just a phone call away.
Is the ignition switch giving you trouble? Does your key get jammed in it? Forget wasting money towing the vehicle to the dealership. We will repair it for you by going to your place at a significantly lower cost.
Automobile Key Replacement
Do you forget your car keys frequently? Or do you need an emergency key duplicate? In addition, we offer critical replacement services. In addition, our team provides laser-cut car keys and remotes.
Emergency Commercial locksmith services
Do you operate a business? Is it securely fastened? It makes no difference if the company is small or large; managing it is difficult. Why then take a chance and waste your hard work? We can assist you in providing top-tier protection for your business.
Do not allow an office lockout to interrupt your business hours. We can quickly find a solution.
Access Management Systems
Do you wish to restrict access to particular areas of your office for security purposes? We can assist you. Access control systems, automated door closers, master key locks, push bars, and CCTV services are available. Whatever it may be, we will install it for you. After assessing your site, our specialists will also recommend the appropriate security measures.
Emergency residential locksmith services
Nothing can be compromised when it comes to the home's security. Contact us to safeguard the safety of your house and family. Our years of experience, dependable personnel, and cutting-edge equipment always ensure the highest level of security.
Are you willing to spend the entire night outside and wait for a locksmith service till morning if you find yourself locked out at midnight? If not, don't hesitate to get in touch with us in such cases. Our on-time service and prompt solutions will restore your home's accessibility quickly.
Keys and locks degrade over time. You may wind up with a broken lock key if you continue using them frequently. It is best to contact a locksmith before attempting to solve the problem yourself. We have the equipment and expertise to extract these damaged keys from the locks without causing more harm.
Repair of Burglary Damage
Every intrusion is traumatic. We understand the loss and call us immediately for the most effective security to prevent such intrusions in the future. After examining the full extent of the damage, our team responds swiftly to your location and offers the best options. Although we will give the highest level of protection, the incident must be reported to the police.
Experience the Reliable Reliable Emergency Locksmith in Columbus, OH
Contact Columbus Community Locksmith; our team is always available to assist you in an emergency. We go above and above for our clients because our sole objective is to exceed their expectations with exceptional work. Spending money on our courteous, attentive, and professional services is a worthwhile investment.